Wednesday Nights at The Beech
We want you and your family to thrive and grow, so join us on Wednesday evenings for dinner, Bible studies for all ages, choir rehearsal, and more! Look below to find out more information about what we have going on!
Dinner - Fellowship Hall
WEDNESDAYS | 5:15 – 6:00 PM
We know planning and preparing dinner can be hectic on a weeknight during the school year, so we've got you covered. Each Wednesday from August to May, we offer a hot and healthy meal at an affordable price to make attending all our Wednesday activities a breeze for you and your family. Make sure you drop by our registration table on your way in! If it's your first time joining us for dinner, your first meal is on us! Just let our registration team know.
To make your reservation, please fill out the form at the bottom of this page.

 Wednesday Night Dinner Prices:
Adults – $5.00
Kids (10 & under) – $2.00
Small Children (under 2 years) – Free!
Family Maximum – $20.00
Adult Bible Studies
WEDNESDAYS  |  6:15 – 7:15 PM
THE CHURCH THAT CHANGES THE WORLD | This is a 5-week study through the book of Acts. Join us in the Fellowship Hall at 6:15PM as we learn about the early church. No registration is needed for this study!
Midweek for Students
WEDNESDAYS  | 6:15 – 7:15 PM
Your high school and middle school students will have a blast during our high-energy worship service and Bible study. When not in worship, there's a hangout space in our gymnasium (volleyball and basketball) and the courtyard area in front of Building D. For more information about our Student Ministry, CLICK HERE.
Midweek for Kids
WEDNESDAYS  |  6:15 – 7:15 PM
Your preschool and elementary-aged children get to participate in fun activities and exciting worship during their Wednesday night experience. Our programs are a fun way for children to learn God's Word and how to apply His truth to their lives every day. Have a child younger than preschool? We have childcare available for them, too! For more information about our Children's Ministry, CLICK HERE.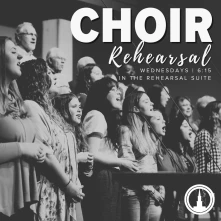 Worship Choir Rehearsal - Rehearsal Suite
WEDNESDAYS  |  6:15 – 7:15 PM
Did you know that our worship team gathers together every Wednesday Night for a time of prayer and rehearsal? Our team does this because they love serving the Body of Christ and giving their talents to the Lord for Him to use. Are you interested in attending? We'd love for you to come – even if you've never sung before!
Wednesday Night Supper Reservation